Are you looking to create a Louisiana Bill of Sale for transactions in Louisiana? Take advantage of our Louisiana bill of sale form template, designed to meet your specific needs. This printable template is an excellent tool for generating a formal bill of sale and documenting your sales transactions accurately.
Printable Louisiana Bill of Sale Form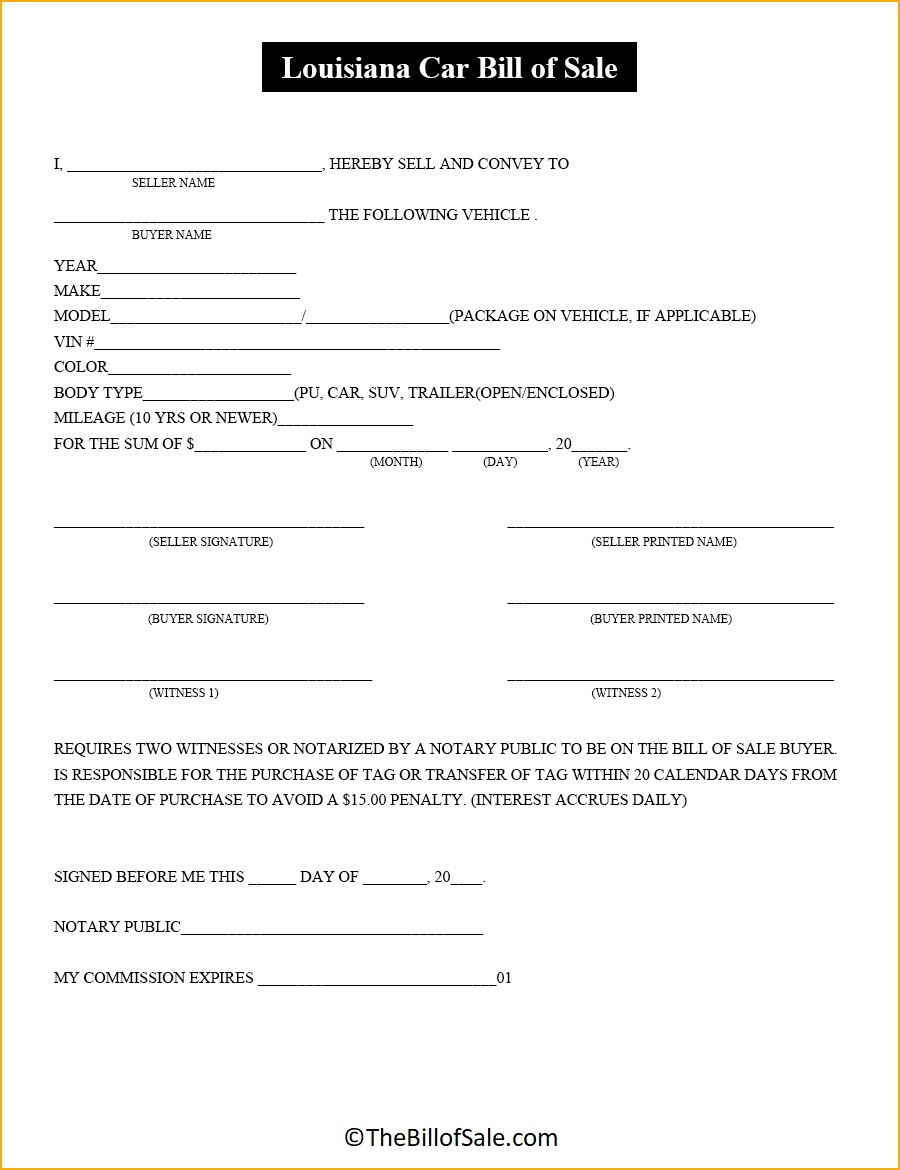 Are you in need of a Louisiana Bill of Sale Form Template? Look no further, as we provide you with the perfect solution. Our templates are specifically designed for documenting transactions in Louisiana, ensuring compliance with state laws. Whether you are buying or selling an item, it is crucial to have a bill of sale to record the details of the transaction.
The templates we offer contain all the necessary information required in a bill of sale, including the parties involved and the item being transferred. Simply input your own information and that of the other party, and you're ready to go.
It's important to note that the content of a bill of sale may vary depending on the region and applicable laws. In this case, our templates are tailored to meet the requirements of Louisiana, a south-eastern state in the United States, bordered by Mississippi, the Gulf of Mexico, Arkansas, and Texas.
When it comes to documenting the form, it is essential to have it notarized along with the invoice and title. Notarization ensures the document's validity and facilitates the taxation process. We highly recommend obtaining a notarized bill of sale to avoid any potential complications in your business transactions. Additionally, the content within the form should be accurate and in accordance with the law. If you have any uncertainties about the content, our templates can serve as helpful examples for creating your own bill of sale.
There are two main categories of bills of sale: Absolute Bill and Conditional Bill. An Absolute Bill signifies a straightforward transaction without any conditions or partial payments. It serves as a documentation of the completed transaction. On the other hand, a Conditional Bill is used when there are specific conditions set by either the buyer or the seller. This type of bill provides security and ensures the parties adhere to the agreed-upon conditions.
While handwritten bills of sale are accepted by law, it is advisable to use a well-printed and properly formatted bill for significant assets such as motor vehicles. Our template forms are the perfect alternative, and the best part is, they are completely free of charge.
You can access our website at any time to download these templates. They are designed to meet your requirements, and if needed, you can easily customize them to suit your specific needs. The templates are available in PDF format, allowing for easy editing directly from your device. Our goal is to make these templates accessible to anyone, regardless of their location, so as long as you have internet access, you can benefit from these resources.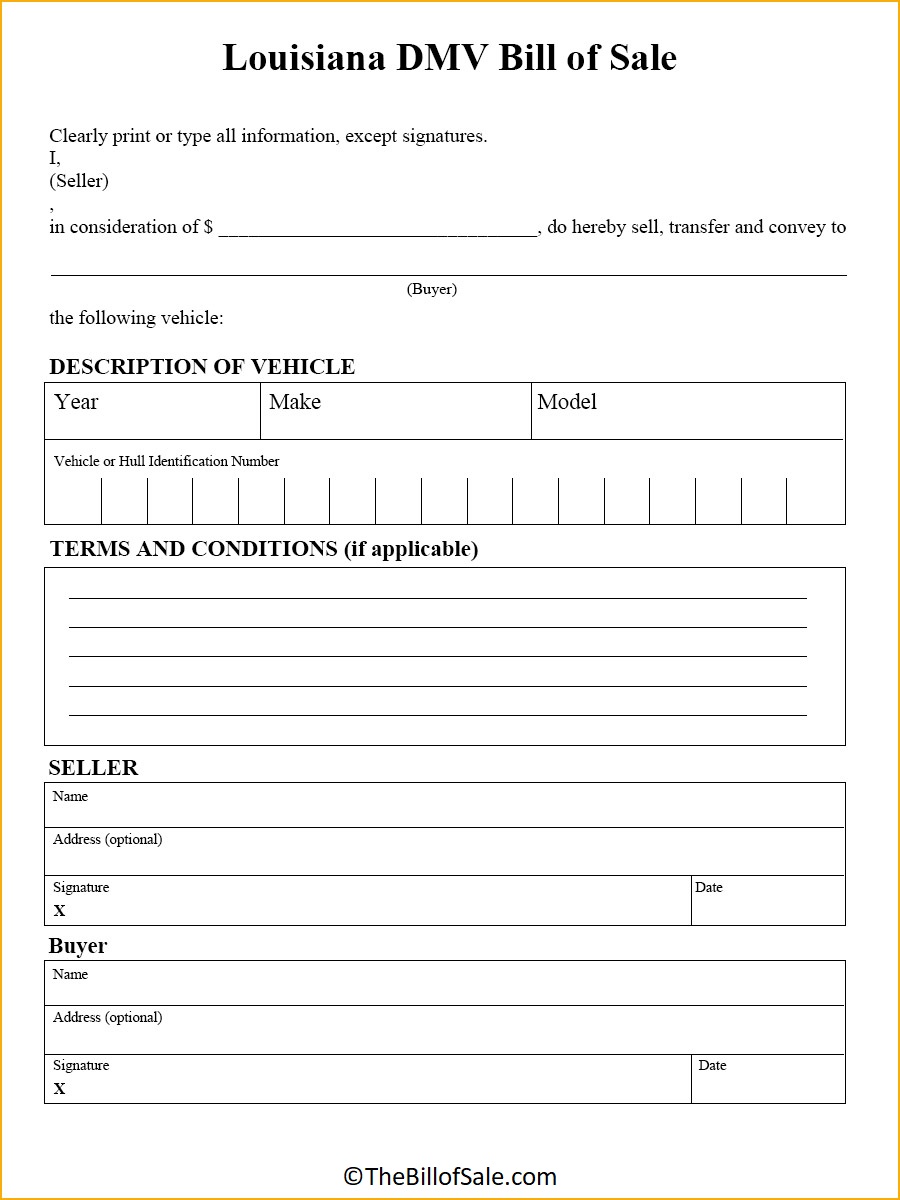 We don't just offer bill of sale templates for one state; we provide templates for various states, each designed to adhere to the specific laws and formatting requirements of that particular state. In the case of Louisiana, we have tailored these templates to meet the needs of individuals conducting transactions within the state's borders. If you reside in Louisiana, these templates are perfect for your buying and selling endeavors, allowing you to maintain proper documentation.
Sales transactions are significant exchanges between two parties that result in the transfer of ownership for a specific item sale. Whether you're selling a small pin or a large movable asset, a bill of sale is necessary. Our templates cater to all types of sales, ensuring compliance with Louisiana state laws regarding the sale of goods.
By utilizing our templates, you can streamline the process of creating a bill of sale and have the necessary documentation at your disposal. Regardless of the item or class of assets involved, our templates serve as a valuable tool for recording and validating sales transactions.
We understand that sales transactions involve the transfer of ownership from the seller to the buyer. It is essential to have a written record that can serve as proof of the transaction. This is where the bill of sale plays a crucial role in documenting the agreement between the buyer and seller.
Louisiana General Bill of Sale Form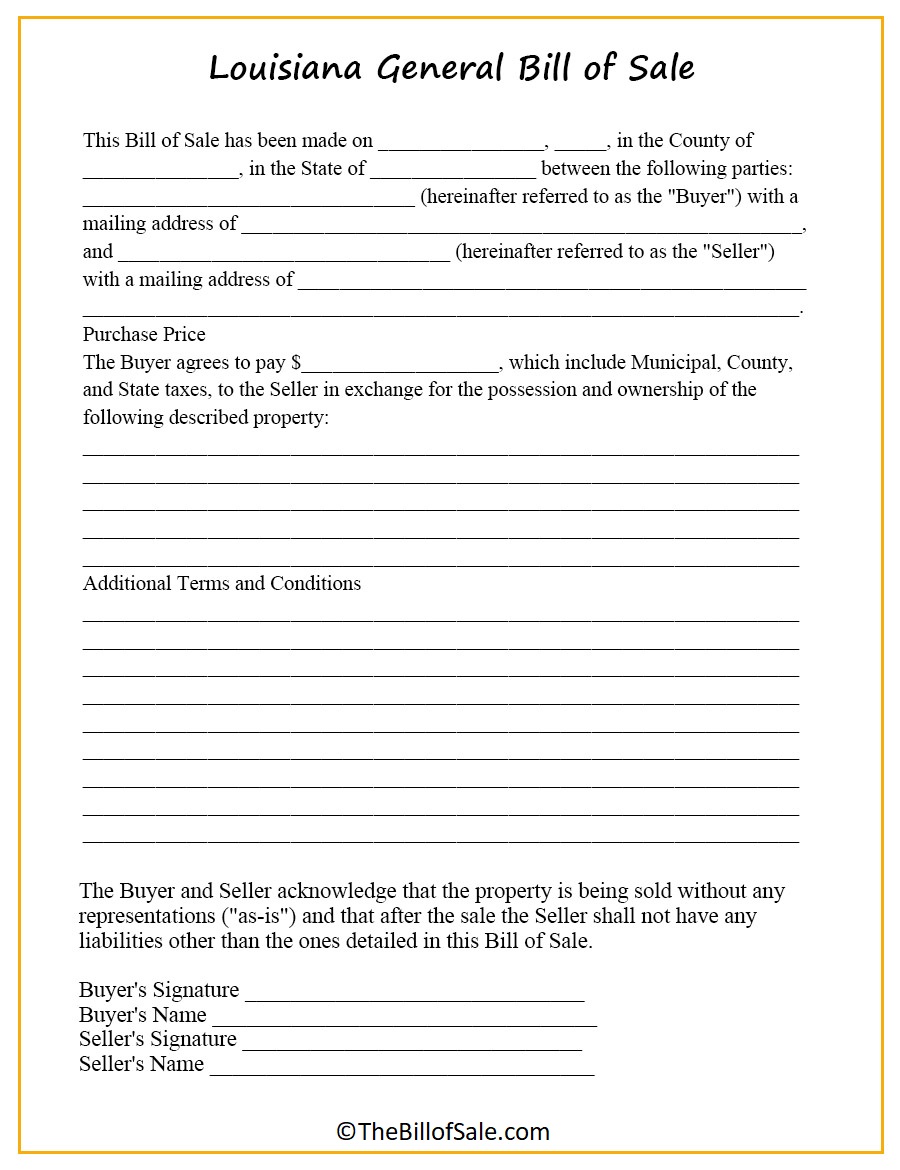 The seller must use the bill of sale to ensure a valid sale that's legally recognized. The bill of sale typically includes essential information about the transaction, such as the names of the buyer and seller, details of the item sale, the sale amount, any warranties or terms, and more.
Louisiana Bill of Sale For DMV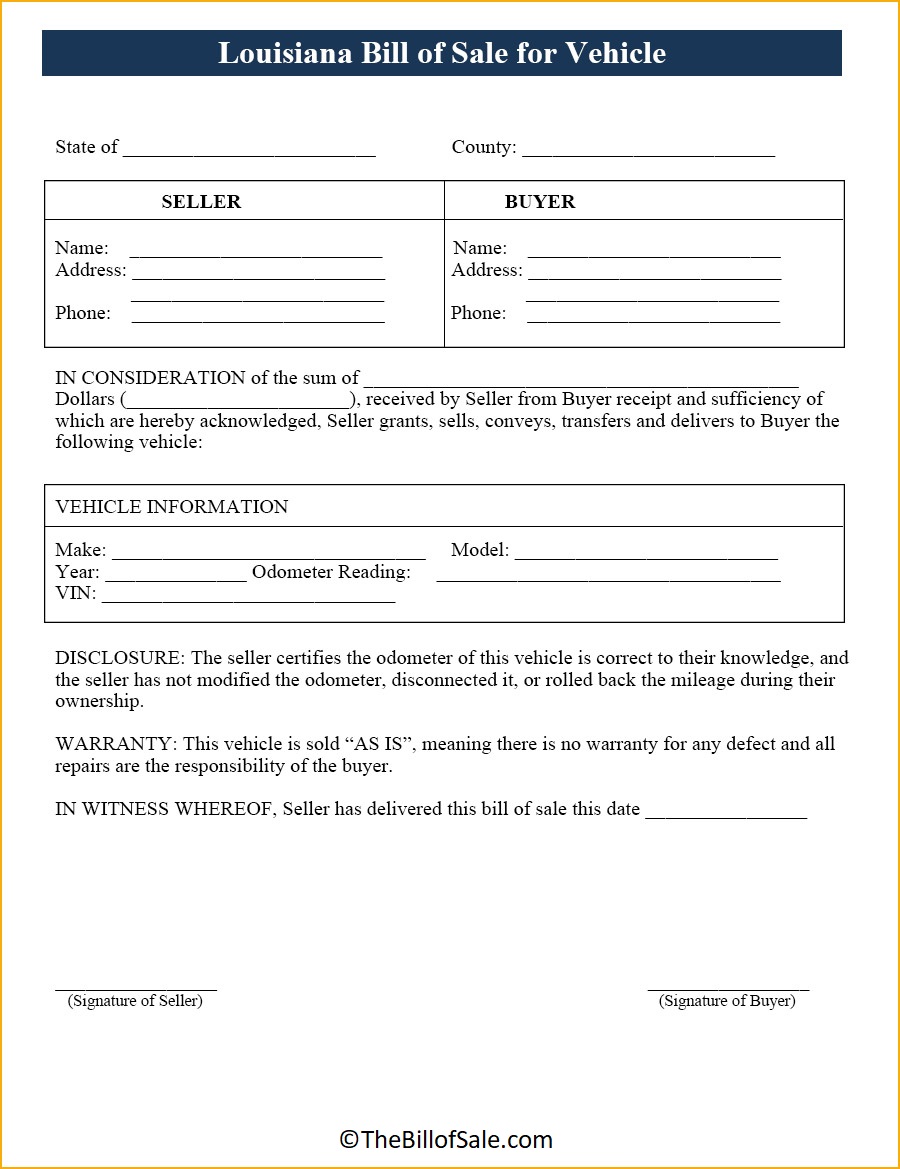 If you intend to participate in sales transactions within Louisiana, we provide a user-friendly, printable template for the bill of sale form. This templates specifically designed to help you create a correctly formatted Louisiana bill of sale. Just print the template, and you can easily generate a formal bill of sale for your transactions.