Are you looking to legally sell your Jet Ski watercraft to another individual? If so, you will require the Jet Ski Bill of Sale form. This essential document is mandatory when selling both new and used Jet Skis.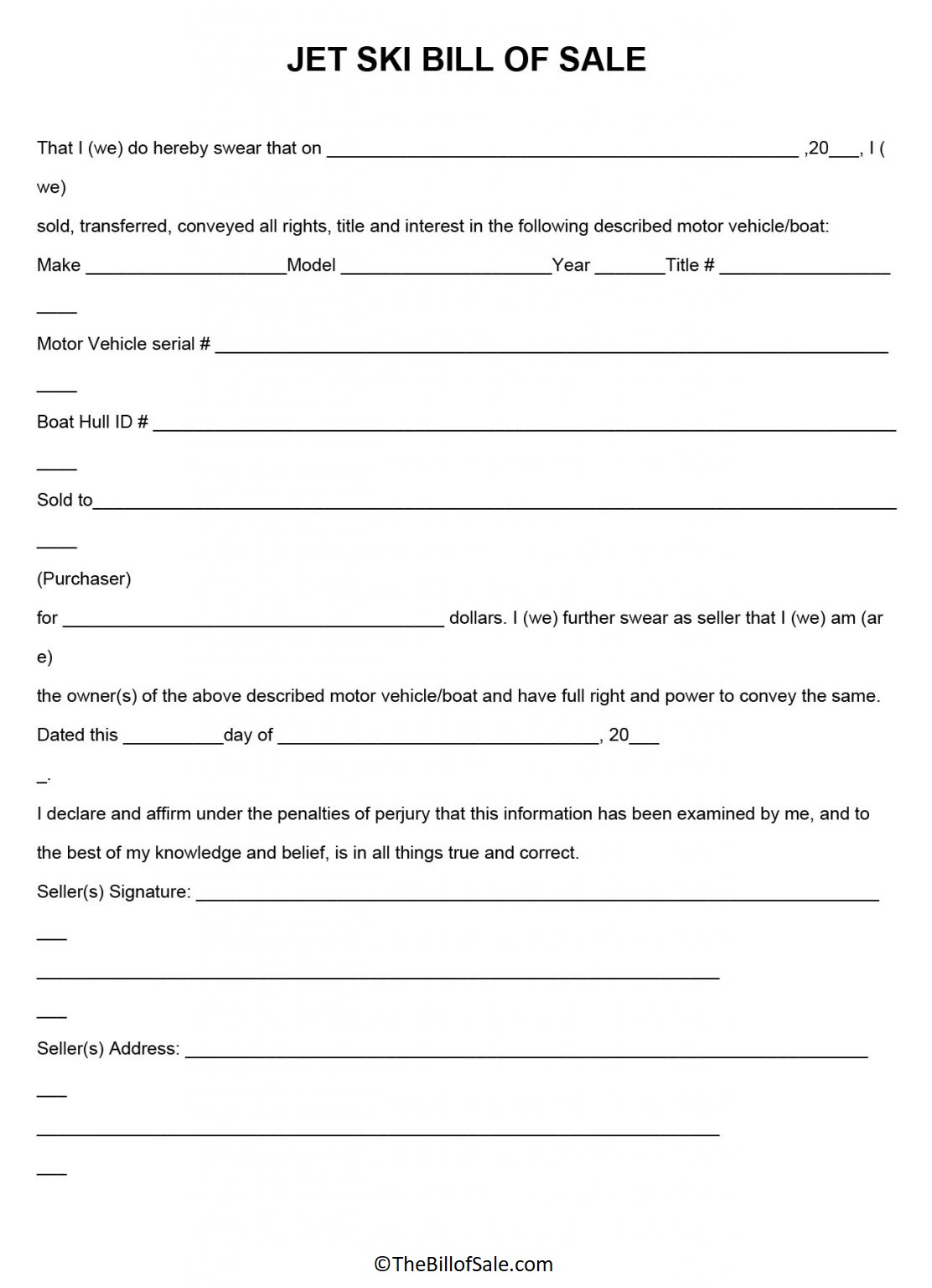 Printable Jet Ski Bill of Sale Form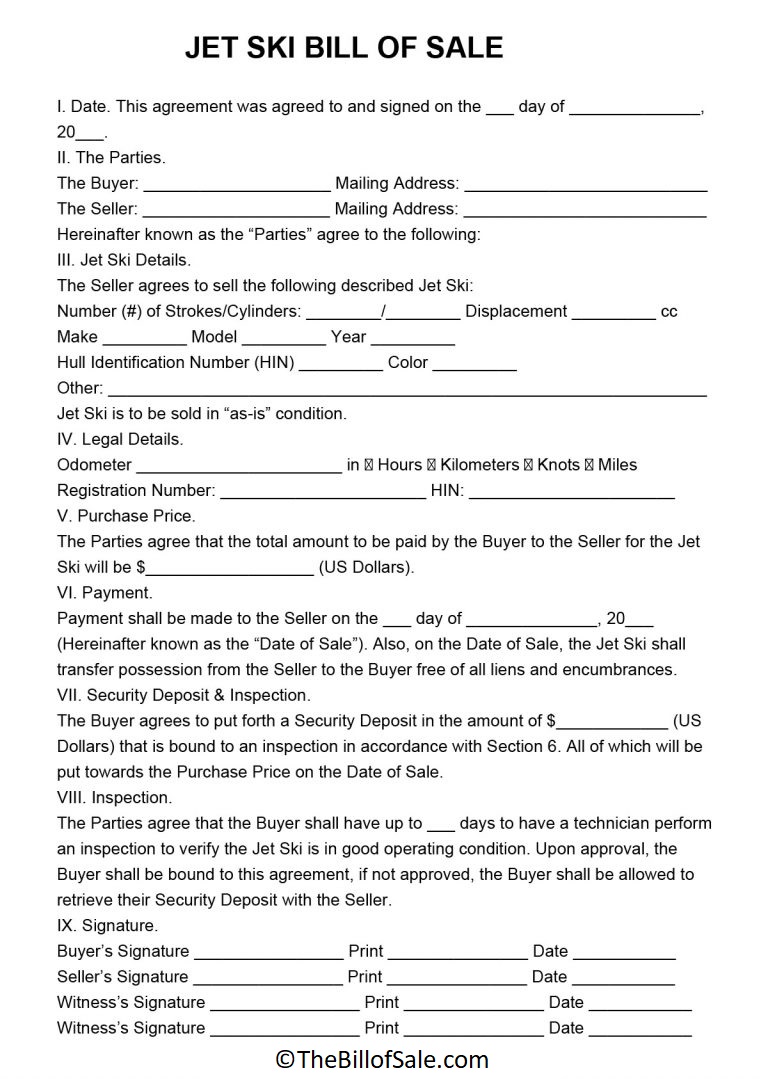 The bill includes comprehensive details about the Jet-Skis sale and ensures compliance with local regulations. In the following article, you will find a printable template of this bill, ready to be customized for your specific needs. For a downloadable template of the car bill of sale, please refer to the Car Bill of Sale section.
Bill of Sale For Jet Ski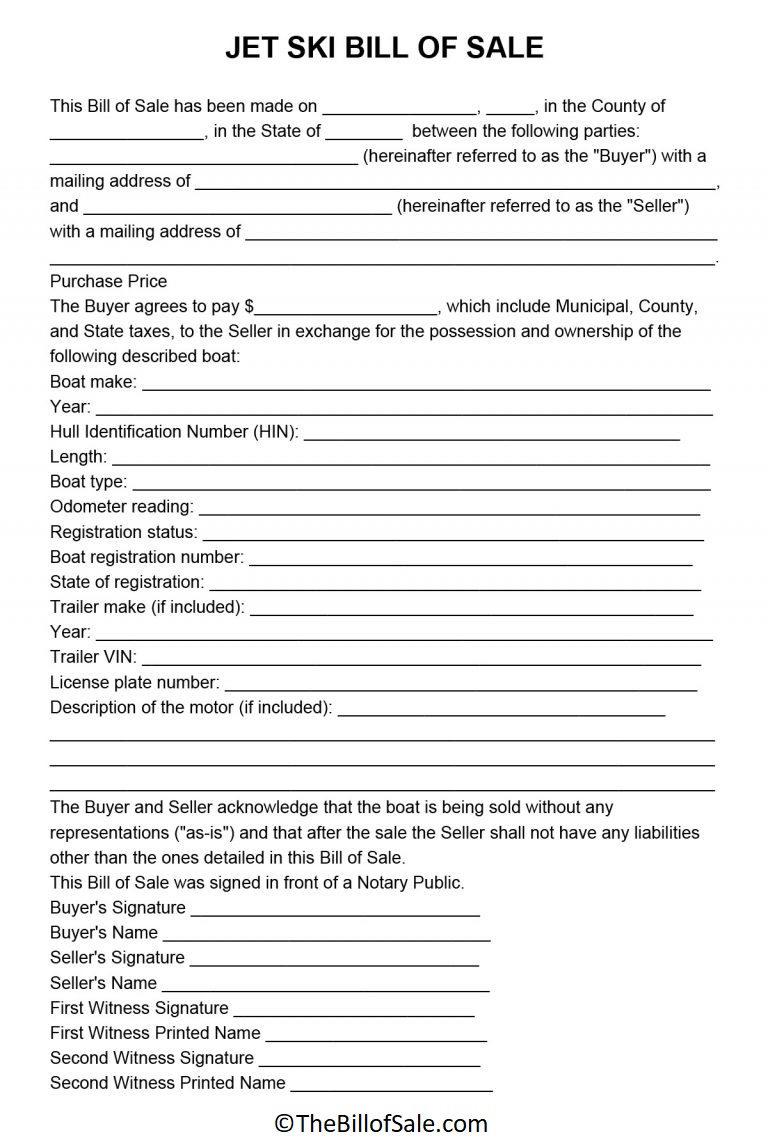 Why is this Necessary?
This is crucial for legally documenting the sale of a Jet Ski. It provides the necessary legal recognition to transfer ownership from the seller to the buyer. When selling your Jet Ski, you will need this bill to record the transaction details and ensure compliance with applicable laws. Be sure to use the appropriate legal format for this when transferring ownership.
How to Sell a Jet Ski?
Selling a Jet Ski requires following a series of steps rather than a simple decision. We have simplified the process for your convenience. Here are the steps to follow:
Step 1 – Ensure the Jet Ski is in Optimal Condition
Before selling, thoroughly inspect the Jet Ski and address any damages. A well-maintained Jet Ski creates a positive impression on potential buyers. Keep it clean and presentable for a successful sale.
Step 2 – Advertise the Sale
Utilize advertising platforms such as local newspapers and social media to attract buyers. Include appealing pictures and a comprehensive description of the Jet Ski. Social media platforms can be particularly effective for promotion, as seen with the New Hampshire Bill of Sale.
Step 3 – Meet with Buyers and Negotiate
As offers start coming in, meet with potential buyers to discuss and negotiate the final price. You aim to secure the best possible price, and effective negotiation skills are key.
Step 4 – Finalize the Sale and Complete
Once both parties agree on the sale price, it's time to complete this. The bill typically includes the following information:
Buyer and seller names and addresses
Sale date
Jet Ski details (model, manufacturer, warranty, etc.)
Purchase price
Security deposit (if applicable)
Signatures of the buyer and seller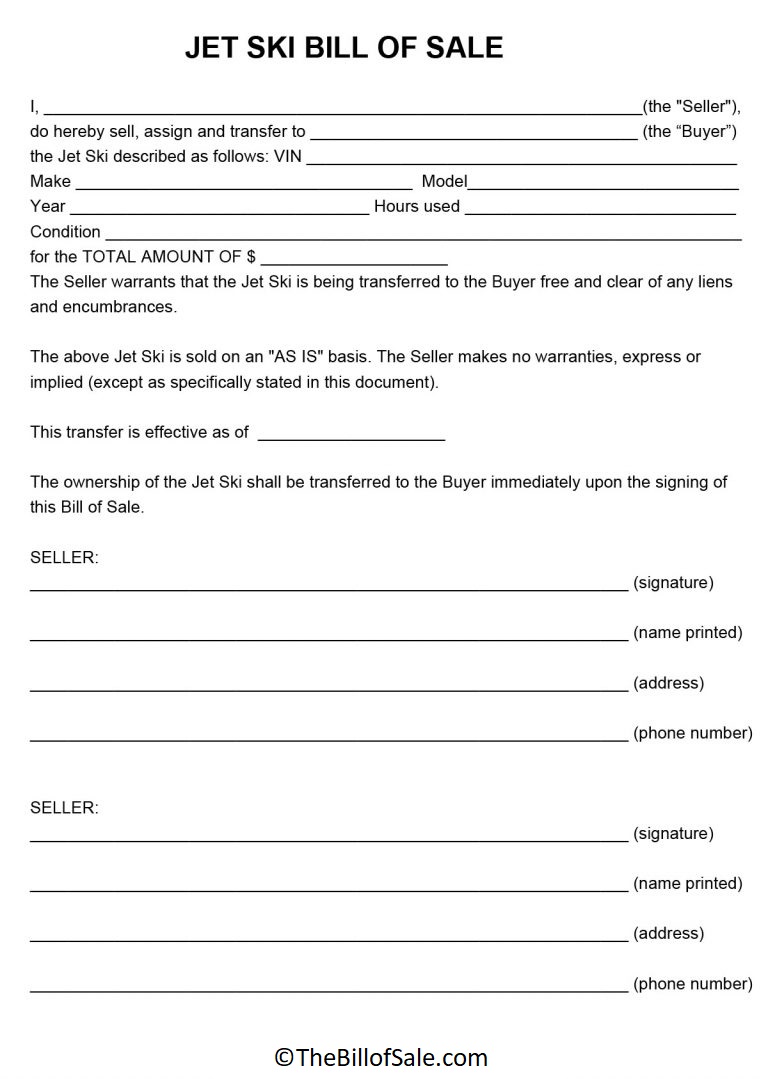 Completing these steps will help ensure a smooth and legally compliant sale of your Jet Ski.
By completing the bill of sale, the ownership of the jet-skis can be transferred from the seller to the buyer in exchange for the agreed-upon price. It is important to note that this transaction signifies the official transfer of ownership.
Jet Ski Bill of Sale Template
Both the seller and the buyer are legally obligated to adhere to the terms and conditions outlined in the bill of sale, similar to a dog/puppy bill of sale. This article aims to provide valuable information about selling jet skis and creating the necessary bill. Please feel free to share this article with others.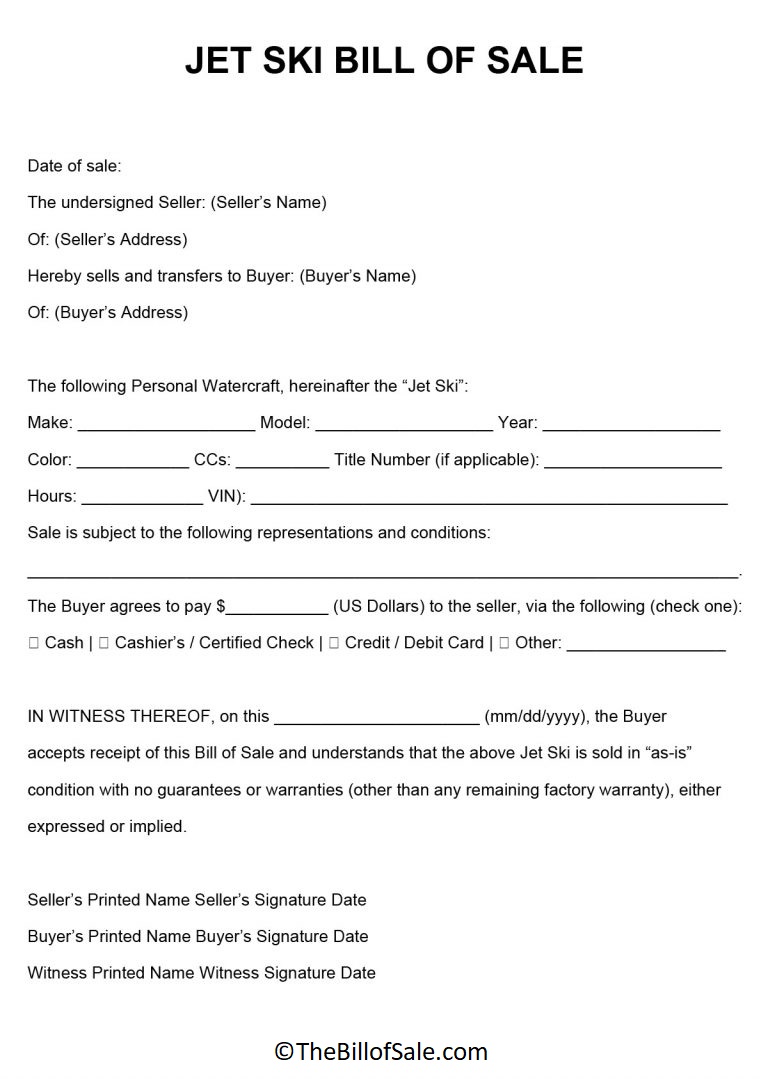 Frequently Asked Questions
What is a Jet Ski Bill of Sale?
This is a legal document that records the sale and transfer of ownership of a Jet Ski from the seller to the buyer.
Why do I need a Jet Ski Bill of Sale?
This provides legal proof of ownership transfer and protects both the buyer's and seller's rights and interests. It is necessary for registering the Jet Ski and resolving any disputes that may arise in the future.
What information should be included in a Jet Ski Bill of Sale?
It should include details such as the names and addresses of the buyer and seller, the date of sale, a description of the Jet Ski (including make, model, year, and Hull Identification Number), purchase price, and any additional terms or conditions of the sale.
Can I create my own Jet-Skis Bill of Sale?
Yes, you can create your own Jet Ski Bill of Sale. However, it is recommended to use a template or consult with a legal professional to ensure that all necessary information and legal requirements are included.
Do I need to notarize the Jet Ski Bill of Sale?
Notarization requirements vary depending on the jurisdiction. It is advisable to check with your local authorities to determine if notarization is necessary to be legally binding.
Is a Jet Ski Bill of Sale required for used Jet Ski?
Yes, it is essential for both new and used Jet Skis. It serves as proof of ownership transfer regardless of whether the Jet Ski is brand new or previously owned.
Can I use the same for multiple sales?
No, it is recommended to create a separate one for each transaction to ensure accuracy and clarity regarding the specific details of each sale.
Is a Jet Ski Bill of Sale the same as a title transfer?
No, a Jet Ski Bill of Sale and a title transfer are two separate processes. This establishes the sale agreement and transfers ownership, while the title transfer is the official process of updating the ownership records with the relevant authorities.
Where can I find a template for a Jet Ski Bill of Sale?
There are various online resources and legal document providers where you can find templates. It is important to use a reliable source to ensure the template meets the legal requirements of your jurisdiction.
Can I modify the terms and conditions in the Bill of Sale?
Yes, the terms and conditions can a modified to suit the specific requirements of the buyer and seller. However, its recommended to consult with a legal professional to ensure that any modifications are legally enforceable.